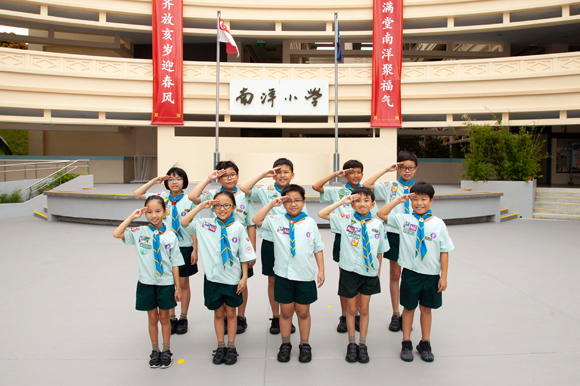 童军致力于为南小培养秉承童军理念与纲领的优秀成员。自我塑成活动分为室内与户外两种,融入了乐趣以及激发积极性的元素。这类循序渐进的活动让童军们挑战自我、克服困难、培养生活技能以及大我精神。
童军可根据兴趣完成指定任务以此换取多达50项的各类技能勋章及奖项。与此同时,这也培养了效忠精神、正确的国民价值观并提高了品德修养。
Aligned to the vision and mission of SSA (Singapore Scout Association), the Pegasus Cub Scout unit aims to provide a conducive group environment which helps the cubs learn and apply the Scout Promise and the Scout Law.
The self-developmental activities planned, both in- and outdoors, are based on the natural sense of fun and enthusiasm of the children. These intellectually stimulating activities are progressive and challenge a child to face and overcome obstacles. They help to develop essential life skills which will aid the children when contributing to the greater good.
Cubs are presented with the opportunity to work on and obtain up to 50 different proficiency badges which cater to the different interests and skills of each cub.
As they develop in their proficiency and commitment to the CCA, the cubs are tested on Citizenship, Leadership and Responsibility, Physical Skills, Self-Reliance, Adventure and Fun. They gradually work towards the Bronze, Silver, Gold Arrow and finally, the Akela Award, the highest award that a cub can attain at Primary 6.