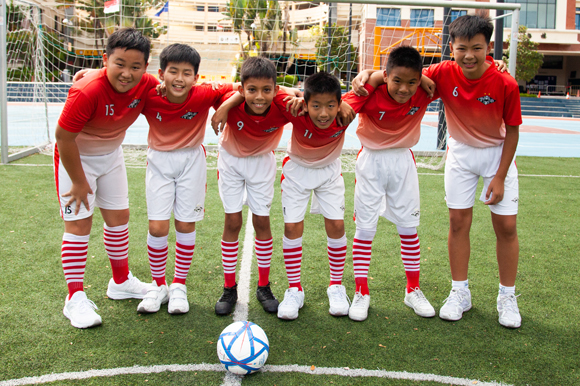 南小足球队定期举办比赛和嘉年华等活动,以提升队员的球技和生活技能。

队员将有机会掌握基本足球技能,如传球、带球、射门等,并了解比赛规则。我们也传授更高级的足球技巧,例如拦截、控球和守门。每位队员都有机会在比赛中发挥球技。

有潜力的孩子通过我们的专业教练和教师团队的选拔,将进入校队,代表学校参加比赛。
The Football CCA equips our footballers with life skills through regular game exposure to football matches and carnivals.
Children who show an interest in the sport have the opportunity to pick up basic skills such as passing, dribbling, and shooting as well as understanding the rules of the game. The training programme challenges children to progress towards more demanding game techniques such as tackling, trapping and goalkeeping. At the end of each fulfilling training session, everyone will have a chance to apply the concepts learnt, in a match.
Children with potential and tenacity may be promoted to represent the school in inter-school competitions.