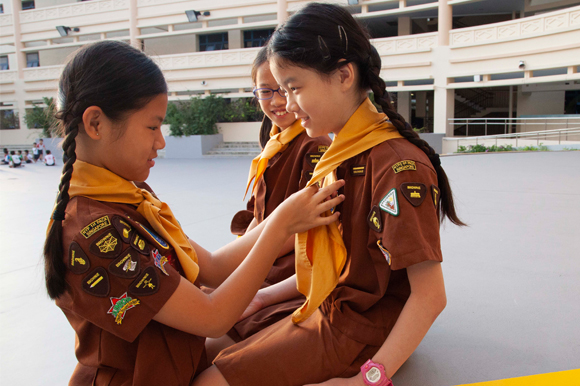 幼女童军们通过参加活动,将有机会多去关注周边社会,并培养自身的独立自主能力。同时,她们可以通过不断地学习新技能来获取可佩戴的奖励徽章,以资鼓励。幼女童军领袖会组织各种有趣又富有挑战的露营活动来鼓励幼女童军们勇敢跳出自己的舒适圈,不断成长。在幼女童军总会的指导下,我们致力于培养勇敢、自信的幼女童军,让她们肩负起造福世界的使命。
除此之外,幼女童军们还会在学习、玩乐的过程中培养独立及协作能力。而且,我们的幼女童军还会有机会跟其他女童军组织一起合作、一起交流,让她们建立坚固的友谊的同时培养自己的信心及热忱。
五点计划
五点计划旨在通过以下五个方面引导幼女童军们的成长:
个人与社会发展 - 健康的自我、有礼貌的自我、有文化的自我
家庭 - 家庭安全与责任
户外 - 关注大自然,绿色世界
社区 - 我的国家、我的邻居、互助
国际 - 我的女童军朋友、我的世界

在幼女童军们参与"五点计划"活动的过程中,她们将会得到荣耀徽章,例如Golden Bar与Golden Hand徽章。 最杰出的幼女童军们将能获得最高荣誉奖--Chief Commissioner's Award。
Brownies are encouraged to explore and discover the world around them and to become more independent. They are constantly learning new skills in their quest to attain interest and skills badges that they wear proudly on the sleeves of their Brownies Uniform. Brownie leaders often challenge Brownies to explore beyond their comfort zones by attending camps filled with fun and adventurous tasks. Girl Guides Singapore (GGS) has guided our mission of building courageous and confident girls of character who make the world a better place.
Brownies learn to work and play independently and also in teams. As part of a wider organisation, Brownies explore fun activities together with other Brownie or Girl Guide units for joint learning adventures. Along the way, they build confidence, practise empathy, and forge lasting friendships.
5-Point Programme
Brownies are guided by a comprehensive 5-Point Programme, which develops them in 5 areas:
Personal & Social Development – Healthy Me, Courteous Me, Cultured Me
Home – Home Safety & Duties
Outdoor – Discovering Nature, A Green World
Community – My Country, My Neighbourhood, Helper
International – My Brownie Friend, My World
In their journey to complete the 5-Point Programme, they may be awarded badges such as the Golden Bar and Golden Hand. Girls who are empowered to achieve their best will work towards the Chief Commissioner's Award, which is the highest possible award given to a Brownie and can set their foundations in their guiding journey, should they choose to join Guides in secondary school.