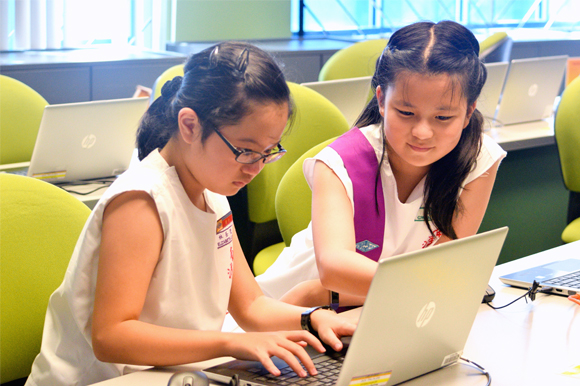 电脑协会的会员是一些学校活动比赛视频动画的幕后功臣。会员精通视频编辑,各类动画制作乃至摄影技巧。如果您需要摄影、录音和视频照明技术的建议,您绝对可以联系任何一个电脑学会会员。在电脑学会,团队合作是必须的,因为我们通过帮助其他课外辅助活动(CCA)为学校制作视频。我们的专业导师和热心的负责老师也会教授会员利用简单的软件创建动画。在电脑学会,即使不擅长画画,也可以制作动画。因此,电脑学会的会员多才多艺,同时兼任制片人、动画设计师、导演、编剧、画家、演员、编辑或是说故事的人都不在话下。
The Computer Club consists of a group of students working behind the scenes to come up with videos and animations for school events and competitions.
The students are well-versed in video-editing software and techniques, animation, stop-motion and even photography. If you need advice on camera skills, sound recording and video-lighting techniques, you can definitely approach any of the Computer Club members. Teamwork is a must as we also learn to contribute to the greater good by helping other CCAs who request for assistance in video productions for the school.
The fun of creating animation from scratch with the help of simple software is also taught during the sessions by our professional instructors and ever helpful teachers. That's right! Anyone can draw animation in the computer club even if they are not artists!
A producer. An animator. A director. A script-writer. An artist. An actor. A narrator. An editor. Our students are all of these in the Computer Club!